Chang Jung Christian University Taiwan and Methodist Pilley Institute jointly organizes the 2021 UEC Mathematics Quiz Competition and Information Engineering Seminar. The purpose of these events is to instill a love and interest of learning Mathematics in the students of independent Chinese secondary schools and to help them get better results in UEC Mathematics examinations. The online platform for the events is zoom meeting and YouTube.
The dates and schedule of the events are as follows:
Date
Activity
June 5
Workshop "Web Design"
June 12
Seminar "Mathematics and Information Engineering"
Seminar "Mathematics and Computer Science"
"UEC Mathematics Quiz Competition"
June 12th
"Web Design Competition" submission of works
June 19th
Announcement of results
Through these seminars, competitions and workshops, Chang Jung Christian University and Methodist Pilley Institue are willing to share valuable educational resources and experience with the schools – to stimulate students' interest in Mathematics and provide guidance and inspiration for students to further their studies and career development. We look forward to the active participation of the students and teachers. The registration deadline is 5 May 2021.
Registration QR code for the 2021 UEC Mathematics Quiz Competition and Information Engineering Seminar: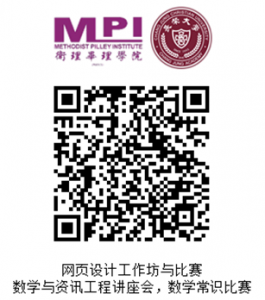 For inquiries about the details of the event, schedule, lectures, workshops, registration, and other matters, please contact the person in charge of the event – Mr Bobo Wong (WhatsApp 0138110323)
Introduction to Methodist Pilley Institute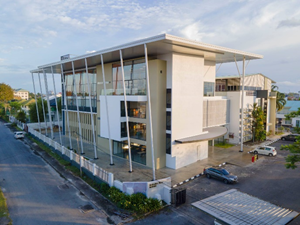 The Methodist Pilley Institute was established in April 1991 in loving memory of Mr and Mrs John A. Pilley who had toiled and dedicated selflessly to the education of the people in the central region of Sarawak.  Methodist Pilley Institute is the oldest higher learning institution in Sibu, Sarawak. The institute has its own 6-acre campus, away from commercial and traffic congested areas, and provides an excellent learning environment for students.  Since the establishment, Methodist Pilley Institute has continued to thrive and educated thousands of students in the past 30 years. At present, it has become a distinguished institution of higher learning. Its mission is to cultivate citizens and leaders with good characters and social responsibility by providing quality, wholesome and affordable education.
At present, the courses offered by Methodist Pilley Institute including accounting, taxation, finance and investment, business management, marketing, early childhood education, computer science, social work, A-level, elderly care and English courses.
Social media links of Methodist Pilley Institute:
Website: http://www.pilley.edu.my/
Facebook: https://www.facebook.com/mpi1991 Instagram: @mpi_1991
Instagram: @mpi_1991
Introduction to Chang Jung Christian University, Taiwan
Chang Jung Christian University is located in Tainan, Taiwan. Established in 1993. It has 9 colleges and departments, namely, management, safety and health sciences, humanities and social sciences, information and design, fine arts, safety and health sciences, theology, sustainable education, and practice and education for the environment, with 54 degree programmes in total. There are about 400 international students from various countries, with a diverse learning environment, and hundreds of clubs and societies of different nature. Apart from studying, students can also gain a different learning experience by participating in the extracurricular activities; the only train station named after a university in Taiwan –  Chang Jung Christian University Station, which only takes 5 minutes to Tainan High Speed ​​Rail Station (Taipei can be reached within two hours), and less than 20 minutes to Tainan Station (city area). The transportation is convenient.
CJCU has won the QS World University four-star rating, and qualified for the Asian regional university rankings TOP401-450.
Feel free to contact Chang Jung Christian University!
(1) FB, please search: CJCU Admission or scan

(2) IG, please search: cjcuadmissions or scan